Effect of Environmental Pollutants on Neurological Disorders
Keywords:
Environmental Pollutants & Neurological Disorders
Abstract
Environmental pollution is one of the leading causes towards the rise of the neurological disorders. All types of pollutants whether biodegradable and non-biodegradable both contributes towards different neurological issues and affects human life badly. The effect of these pollutants even affects the baby in the womb. Other than this environmental pollutant is also responsible for causing other complex disorders such as cancer, diabetes, heart diseases and many more. Different types of environmental pollution such as air, water, land, thermal, sound, radiation etc. have different impact on the neurological health of the individuals. Disastrous conditions as well as the areas with poor hygiene and cleaning facilities are also linked with the presence of or growth of harmful microorganisms and these are the sites that are accumulated with heavy metals such as lead, arsenic, mercury etc. Along with this noise pollution also affects our brain and nervous system and can cause complications even can cause depression among people. Similarly, the polluted water contains a number of pollutants and toxic metals which accelerates the process of aging and in longer term to cause neurodegenerative diseases. The role of nutrition is highly recommended in neurological disorders and complications as eating healthy diet and taking safety precautions in food preparations and proper handling of food in industries can decrease the chances of the occurring of such diseases. Concluding the facts of our study it has been seen that environmental pollutants triggers the oxidative stress and cause neurotoxicity and inflammation of the neuron cells which in longer term causes different neurodegenerative diseases.
References
Coker AO. Environmental Pollution: Types, causes, impacts, and management for the health and socio-economic well-being of Nigeria. The University of Ibadan. Ibadan, 2011: 1-23.
Wasi S, Tabrez S & Ahmad M. Toxicological effects of major environmental pollutants: an overview. Environmental monitoring and assessment, 2013, 185(3): 2585-2593. doi: 10.1007/s10661-012-2732-8
Khan A, Plana-Ripoll O, Antonsen S, Brandt J, Geels C, Landecker H, . . . Rzhetsky A. Environmental pollution is associated with increased risk of psychiatric disorders in the US and Denmark. PLoS biology,2019, 17(8): e3000353-e3000353. doi: 10.1371/journal.pbio.3000353.
Oulhote Y & Bellinger DC. Neurodevelopment and Neurobehavioral Disorders in Relation to Developmental Exposures Health Impacts of Developmental Exposure to Environmental Chemicals,2020: 153-174. doi:10.1007/978-981-15-0520-1_7
Attademo L, Bernardini F, Garinella R & Compton MT. Environmental pollution and risk of psychotic disorders: A review of the science to date. Schizophrenia research, 2017,181: 55-59. doi: 10.1016/j.schres.2016.10.003.
Konduracka E. A link between environmental pollution and civilization disorders: a mini review. Reviews on environmental health, 2019, 34(3): 227-233. doi: 10.1515/reveh-2018-0083. doi: 10.1515/reveh-2018-0083.
Zeliger HI. Exposure to lipophilic chemicals as a cause of neurological impairments, neurodevelopmental disorders and neurodegenerative diseases. Interdisciplinary toxicology,2013, 6(3): 103-110. doi: 10.2478/intox-2013-0018.
Oudin A. Short review: Air pollution, noise and lack of greenness as risk factors for Alzheimer's disease-epidemiologic and experimental evidence. Neurochemistry International, 2020,134: 104646. doi: 10.1016/j.neuint.2019.104646.
Heusinkveld HJ, Wahle T, Campbell A, Westerink RH, Tran L, Johnston H, . . . Schins RP. Neurodegenerative and neurological disorders by small inhaled particles. Neurotoxicology, 2016, 56: 94-106. doi: 10.1016/j.neuro.2016.07.007.
Yuchi W, Sbihi H, Davies H, Tamburic L & Brauer M. Road proximity, air pollution, noise, green space and neurologic disease incidence: a population-based cohort study. Environmental Health, 2020,19(1): 8. doi.org/10.1186/s12940-020-0565-4
Agnihotri A & Aruoma OI. Alzheimer's Disease and Parkinson's Disease: A Nutritional Toxicology Perspective of the Impact of Oxidative Stress, Mitochondrial Dysfunction, Nutrigenomics and Environmental Chemicals. Journal of the American College of Nutrition, 2020,39(1):16-27. doi: 10.1080/07315724.2019.1683379.
Chin-Chan M, Navarro-Yepes J & Quintanilla-Vega B. Environmental pollutants as risk factors for neurodegenerative disorders: Alzheimer and Parkinson diseases. Frontiers in cellular neuroscience, 2015,9: 124. doi: 10.3389/fncel.2015.00124.
Tshala-Katumbay D, Mwanza J-C, Rohlman DS, Maestre G & Oriá RB. A global perspective on the influence of environmental exposures on the nervous system. Nature, 2015, 527(7578),: S187. doi: 10.1038/nature16034.
Alhowikan AM, Al-Ayadhi LY & Halepoto DM. Impact of environmental pollution, dietary factors and diabetes mellitus on Autism Spectrum Disorder (ASD). Pakistan journal of medical sciences, 2019,35(4): 1179. doi.org/10.12669/pjms.35.4.269
Chuang H-C, Wu D & Kang J-H. Particulate air pollution and neurological diseases: The role of tauopathies. Environmental Disease,2018, 3(1): 4. doi: 10.4103/ed.ed_22_17
Grandjean P & Landrigan PJ. Neurobehavioural effects of developmental toxicity. The lancet neurology, 2014,13(3): 330-338. doi: 10.1016/S1474-4422(13)70278-3.
Genc S, Zadeoglulari Z, Fuss SH & Genc K. The adverse effects of air pollution on the nervous system. Journal of toxicology, 2012. doi: 10.1155/2012/782462.
Allahverdy A & Jafari AH. Non-auditory Effect of Noise Pollution and Its Risk on Human Brain Activity in Different Audio Frequency Using Electroencephalogram Complexity. Iranian journal of public health, 2016,45(10): 1332.
Bondy SC & Campbell A. Water quality and brain function. International journal of environmental research and public health, 2018,15(1): 2.
Kajta M & Wójtowicz AK. Impact of endocrine-disrupting chemicals on neural development and the onset of neurological disorders. Pharmacological Reports, 2013,65(6): 1632-1639. doi: 10.1016/s1734-1140(13)71524-x.
Piekarski D, Diaz K & McNerney M. Perfluoroalkyl chemicals in neurological health and disease: Human concerns and animal models. Neurotoxicology. 2020.
Mao G, Liu H, Ding Y, Zhang W, Chen H, Zhao T, . . . Yang L. Evaluation of combined developmental neurological toxicity of di (n-butyl) phthalates and lead using immature mice. Environmental science and pollution research, 2020: 1-9. doi: 10.1007/s11356-019-06692-9.
Bjørklund G, Peana M, Dadar M, Chirumbolo S, Aaseth J & Martins N. Mercury-induced autoimmunity: Drifting from micro to macro concerns on autoimmune disorders. Clinical Immunology, 2020: 108352.
Prata JC, da Costa JP, Lopes I, Duarte AC & Rocha-Santos T. Environmental exposure to microplastics: an overview on possible human health effects. Science of The Total Environment, 2019: 134455. doi: 10.1016/j.scitotenv.2019.134455.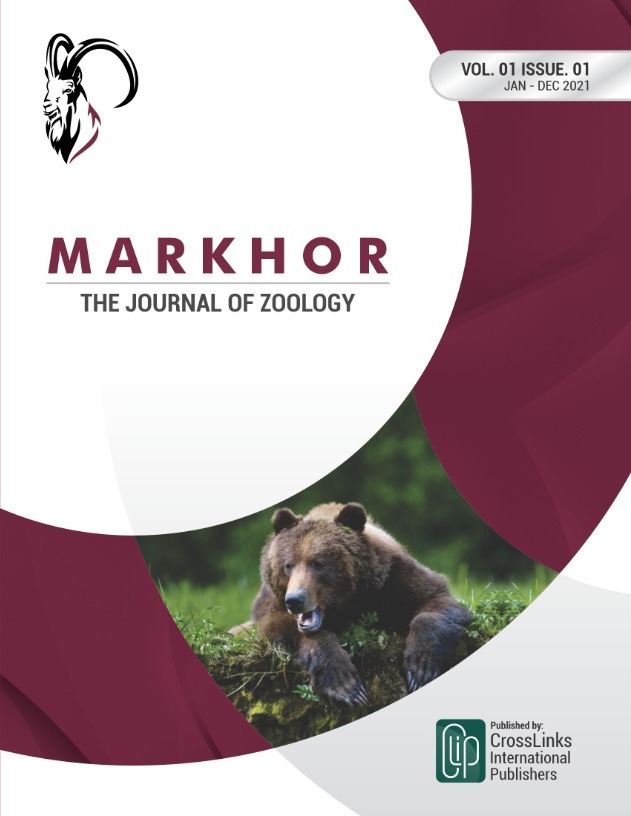 Downloads
CITATION
DOI: 10.54393/mjz.v2i2.18
How to Cite
Aslam, M., Ali, M. H., Erum, W., Shehzadi, S., & Khalid, Z. (2021). Effect of Environmental Pollutants on Neurological Disorders. MARKHOR (The Journal of Zoology), 2(2), 09–13. https://doi.org/10.54393/mjz.v2i2.18
License
Copyright (c) 2021 MARKHOR (The Journal of Zoology)
This work is licensed under a Creative Commons Attribution 4.0 International License.
This is an open-access journal and all the published articles / items are distributed under the terms of the Creative Commons Attribution License, which permits unrestricted use, distribution, and reproduction in any medium, provided the original author and source are credited. For comments editor@markhorjournal.com