Comparison of GeneXpert assay and Fluorescent Microscopy for the Diagnosis of Pulmonary Tuberculosis in Narowal region
Keywords:
Tuberculosis (TB), Fluorescence microscope (FM), Sensitivity, Specificity,Light Emitting Diode (LED), GeneXpert
Abstract
GeneXpert is attributed as one of the latest technical means for diagnosing Tuberculosis in very short period of time. Objectives: To evaluate the efficiency of GeneXpert and fluorescent microscopy in the detection of pulmonary tuberculosis (TB); To compare the sensitivity and specificity of GeneXpert and fluorescent microscope in the diagnosis of Mycobacterium tuberculosis Methods: In the present investigation, the diagnostic performance of GeneXpert MTB / RIF for tuberculosis was compared with the performance of light-emitting diode fluorescence microscope in TB samples from Narowal, Pakistan. For this purpose, a total of 299 TB positive specimens were obtained. Among these 54% (n = 160) were categorized to be obtained from male and 46% (n = 139) from female population. Data collected was distributed in 4 age groups; 0-20, 21-40, 41-60, and 61-80, in which the percentage and number of samples were found as 2% (n = 6), 60% (n = 179), 27% (n = 80) and 11% (n = 34), respectively. Results: The parameters including sensitivity and specificity calculated for GeneXpert were 73% and 100%, correspondingly, while the sensitivity and specificity calculated for LED-FM microscope were 43% and 100%, respectively. Conclusions: This indicates that the GeneXpert is more sensitive in detecting MTB in comparison to LED-FM technique. The GeneXpert assay was also found to detect small number of bacillus from samples in comparison to LED-FM method
References
- Bhatt K & Salgame P. Host innate immune response to Mycobacterium tuberculosis. J. Clin. Immunol, 2007,27(4): 347-362.
- Al-Ateah SM, Al-Dowaidi MM & El-Khizzi NA. Evaluation of direct detection of Mycobacterium tuberculosis complex in respiratory and non-respiratory clinical specimens using the Cepheid Gene Xpert® system. Strat. Manag. Journal, 2012,33(10): 1100-1105.
- Gordon SV, Bottai D, Simeone R, Stinear TP & Brosch R. Pathogenicity in the tubercle bacillus: molecular and evolutionary determinants. BioEssays, 2009,31(4): 378-388.
-Griffith DE & Aksamit TR. Bronchiectasis and nontuberculous mycobacterial disease. Clinics in chest medicine, 2012,33(2), 283-295.
- Castets M, Boisvert H, Grumbach F, Brunel M & Rist N. Tuberculosis bacilli of the African type: preliminary note. Revue de tuberculose et de pneumologie, 1968,32(2): 179-184.
- Bennett JE, Dolin R, Blaser MJ & Mandell GL. Mandell, douglas, and bennett's principles and practice of infectious diseases E-book. Elsevier Health Sciences.2009.
-Alvarez-Uria G, Azcona JM, Midde M, Naik PK, Reddy S & Reddy R. Rapid diagnosis of pulmonary and extra-pulmonary tuberculosis in HIV-infected patients. Comparison of LED fluorescent microscopy and the Gene Xpert MTB/RIF assay in a district hospital in India. Tuberculosis Research and Treatment, 2012, 04.
-Neely A. Internal Ecologies and the Limits of Local Biologies: A Political Ecology of in the Time of AIDS. Ann. Am. Assoc. Geogr., 2015,105: 791-805.
-Chen J, Zhang R, Wang J, Liu L, Zheng Y, Shen Y, ... Lu H. Interferon-gamma release assays for the diagnosis of active tuberculosis in HIV-infected patients: a systematic review and meta-analysis. PLoS One, 2011,6(11): 26827-26833
-Benson CA, Brooks JT, Holmes KK, Kaplan JE, Masur H & Pau A. Guidelines for prevention and treatment opportunistic infections in HIV-infected adults and adolescents; recommendations from CDC, the National Institutes of Health, and the HIV Medicine Association/Infectious Diseases Society of America. MMWR. Recommendations and reports / Centers for Disease Control. 2009,58(RR-4): 1-207.
-Hawn T, Day T, Scriba T, Hatherill M, Hanekom W, Evans T, Churchyard G, Kublin J, Bekker L, Self S. (2014). Tuberculosis Vaccines and Prevention of Infection. Micro.Molec. Biol. Reviews, 78:650-671.
-Lawn SD, Brooks SV, Kranzer K, Nicol M, Whitelaw A, Vogt M, Bekker LG and Wood R. Screening for HIV-associated tuberculosis and rifampicin resistance before antiretroviral therapy using the Xpert MTB/RIF assay: a prospective study. PLoS Med,2011, 8(7): e1001067.
-Banada PP, Sivasubramani SK, Blakemore R, Boehme C, Perkins MD, Fennelly K & Alland D. Containment of bioaerosol infection risk by the Xpert MTB/RIF assay and its applicability to point-of-care settings. J. Clin, Microbiology, 2010,48(10): 3551-3557.
-Lawn SD & Zumla AI. Tuberculosis. The Lancet, 2011,378:57-72.
-Tomás BA, Pell C, Cavanillas AB, Solvas JG, Pool R & Roura M. Tuberculosis in migrant populations. A systematic review of the qualitative literature. PLOS One, 2013,8(12): e82440.
- Ahmad S, Afzal S, Ullah A & Sheed A. Evaluation of Gene Xpert MTB/RIF Assay for Detection of Pulmonary Tuberculosis on Sputum Samples. J. Coll. Physicians Surg. Pak, 2019, 29(1): 66-69.
-Bajrami R, Mulliqi G, Kurti A, Lila G & Raka L. Comparison of GeneXpert MTB/RIF and conventional methods for the diagnosis of tuberculosis in Kosovo. J. Infect. Dev. Ctries Title, 2016,10(04): 418-422.
-Cepheid Brochure: Xpert®MTB/RIF. Two-hour detection of MTB and resistance to rifampicin. Available at; http://www.cepheid.com/media/files/eu/brochures/ XpertMTB Broch R9 EU.pdf. Sunnyvale, 2012:1–4.
-Walters E, Goussard P, Bosch C, Hesseling AC & Gie RP. GeneXpert MTB/RIF on bronchoalveolar lavage samples in children with suspected complicated intrathoracic tuberculosis: a pilot study. Pediatr. Pulmonol, 2014,49(11): 1133-1137.
-Chaidir L, Parwati I, Annisa J, Muhsinin S, Meilana I, Alisjahbana B & van Crevel R. Implementation of LED fluorescence microscopy for diagnosis of pulmonary and HIV-associated tuberculosis in a hospital setting in Indonesia. PLoS One, 2013,8(4): 61727-61734.
-Pang Y, Shang Y, Lu J, Liang Q, Dong L, Li Y & Huang H. GeneXpert MTB/RIF assay in the diagnosis of urinary tuberculosis from urine specimens. Sci. Rep, 2017,7(1): 6181.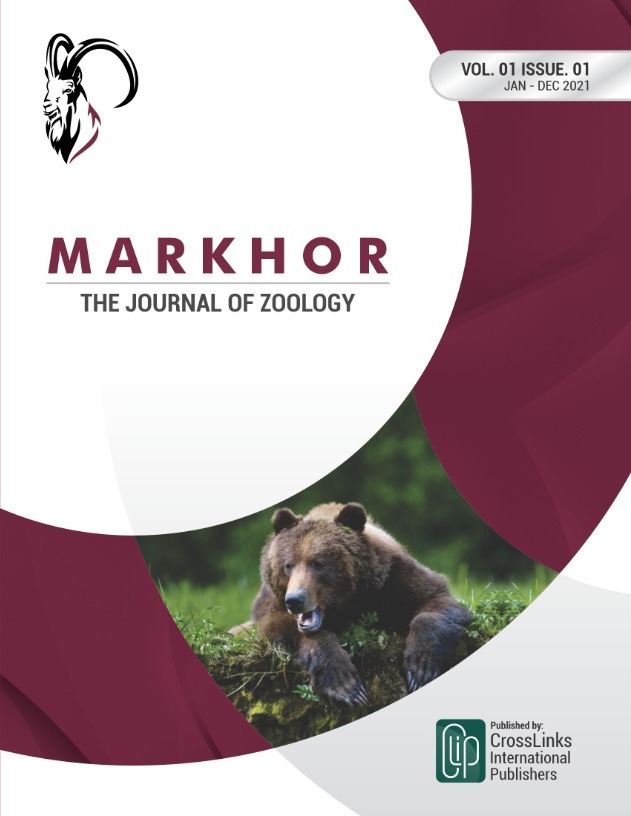 Downloads
How to Cite
Amjad, A., Ansari, F., Iqbal, A., Ain, Q. ul, Ali, A., Aziz, S., & Yusuf, Z. (2021). Comparison of GeneXpert assay and Fluorescent Microscopy for the Diagnosis of Pulmonary Tuberculosis in Narowal region. MARKHOR (The Journal of Zoology), 2(2), 33–39. https://doi.org/10.54393/mjz.v2i2.21
License
Copyright (c) 2021 MARKHOR (The Journal of Zoology)
This work is licensed under a Creative Commons Attribution 4.0 International License.
This is an open-access journal and all the published articles / items are distributed under the terms of the Creative Commons Attribution License, which permits unrestricted use, distribution, and reproduction in any medium, provided the original author and source are credited. For comments editor@markhorjournal.com