Antimicrobial Activity of Moringa oleifera Tea Leaves and Seeds Concentrated in Di Ethanol against E. coli Isolated from Ostrich Feces
Antibacterial effect of Moringa oleifera Tea Leaves and Seeds Extracts
Keywords:
Moringa oleifera, Tea leaves, Seeds, E. coli, Ostrich
Abstract
Ostriches are frequently infected with viral, fungal, and bacterial diseases. This disease does not require airborne transmission and does not involve the respiratory system. Objective: To determine the antimicrobial activity of Moringa oleifera tea leaves and seed against bacteria in Ostrich feces. Methods: Fecal samples were collected from captive ostriches at the W.A Apparel factory. E. coli was isolated after the samples were inoculated on EMB. The antimicrobial activity of Moringa oleifera seeds and tea leaves was investigated. The antimicrobial activity of Ostrich feces was tested against E. coli. Results: The results showed that tea extract had no antimicrobial activity against E. coli. Moringa oleifera seeds extract prepared in ethanol on the other hand, were effective against E. coli. Conclusion: Moringa oleifera seeds (di ethanolic extract) have the potential to be effective against E. coli.
References
Huchzermeyer FW. Diseases of ostriches and other ratites. Onderstepoort Veterinary Institute, Private Bag X05.; 1998.
Rezaei FA, Peighambari SM, Sadrzadeh A, Badouei MA. Bacterial contamination of dead-in-shell embryos in ostrich hatcheries and antimicrobial resistance patterns of isolated Escherichia coli. Iranian Journal of Veterinary Medicine. 2013 Oct; 7(3): 169-75. doi: 10.22059/IJVM.2013.35967.
Silva N, Igrejas G, Gonçalves A, Poeta P. Commensal gut bacteria: distribution of Enterococcus species and prevalence of Escherichia coli phylogenetic groups in animals and humans in Portugal. Annals of microbiology. 2012 Jun; 62(2): 449-59. doi: 10.1007/s13213-011-0308-4.
Foggin CM. Veterinary problems of ostriches. The Topaz introduction to practical ostrich farming. 1992.
Tully TN and Shane SM. Husbandry practices as related to infectious and parasitic diseases of farmed ratites. Revue scientifique et technique (International Office of Epizootics). 1996 Mar; 15(1): 73-89. doi: 10.20506/rst.15.1.916.
Spinner MA, Sanchez LA, Hsu AP, Shaw PA, Zerbe CS, Calvo KR, et al. GATA2 deficiency: a protean disorder of hematopoiesis, lymphatics, and immunity. Blood, The Journal of the American Society of Hematology. 2014 Feb; 123(6): 809-21. doi: 10.1182/blood-2013-07-515528.
Katayon S, Noor MM, Asma M, Ghani LA, Thamer AM, Azni I, et al. Effects of storage conditions of Moringa oleifera seeds on its performance in coagulation. Bioresource Technology. 2006 Sep; 97(13): 1455-60. doi: 10.1016/j.biortech.2005.07.031.
Saini RK, Sivanesan I, Keum YS. Phytochemicals of Moringa oleifera: a review of their nutritional, therapeutic and industrial significance. 3 Biotech. 2016 Dec; 6(2): 1-4. doi: 10.1007/s13205-016-0526-3.
Ghebremichael KA, Gunaratna KR, Henriksson H, Brumer H, Dalhammar G. A simple purification and activity assay of the coagulant protein from Moringa oleifera seed. Water Research. 2005 Jun; 39(11): 2338-44. doi: 10.1016/j.watres.2005.04.012.
Jamil A, Shahid M, Khan MM, Ashraf M. Screening of some medicinal plants for isolation of antifungal proteins and peptides. Pakistan Journal of Botany (Pakistan). 2007 Feb; 39(1): 211-221.
Somali MA, Bajneid MA, Al‐Fhaimani SS. Chemical composition and characteristics of Moringa peregrina seeds and seeds oil. Journal of the American Oil Chemists' Society. 1984 Jan; 61(1): 85-6. doi: 10.1007/BF02672051.
Mughal MH, Ali G, Srivastava PS, Iqbal M. Improvement of drumstick (Moringa pterygosperma Gaertn.)–a unique source of food and medicine through tissue culture. Hamdard Medicus. 1999; 42(1):37-42.
Rebecca HS, Sharon M, Arbainsyah A, Lucienne D. Moringa oleifera: medicinal and socio-economic uses. International Course on Economic Botany. National Herbarium Leiden, Netherlands. 2006 Sep:2-6.
Anwar F, Latif S, Ashraf M, Gilani AH. Moringa oleifera: a food plant with multiple medicinal uses. Phytotherapy Research: An International Journal Devoted to Pharmacological and Toxicological Evaluation of Natural Product Derivatives. 2007 Jan; 21(1): 17-25. doi: 10.1002/ptr.2023.
Makonnen E, Hunde A, Damecha G. Hypoglycaemic effect of Moringa stenopetala aqueous extract in rabbits. Phytotherapy Research: An International Journal Devoted to Medical and Scientific Research on Plants and Plant Products. 1997 Mar; 11(2): 147-8. doi: 10.1002/(SICI)1099-1573(199703)11:2<147::AID-PTR41>3.0.CO; 2-V.
Ekpo BA, Bala DN, Essien EE, Adesanya SA. Ethnobotanical survey of Akwa Ibom state of Nigeria. Journal of Ethnopharmacology. 2008 Feb; 115(3): 387-408. doi: 10.1016/j.jep.2007.10.021.
Broin M, Santaella C, Cuine S, Kokou K, Peltier G, Joet T. Flocculent activity of a recombinant protein from Moringa oleifera Lam. seeds. Applied Microbiology and Biotechnology. 2002 Oct; 60(1): 114-9. doi: 10.1007/s00253-002-1106-5.
Nepolean P, Anitha J, Emilin RR. Isolation, analysis and identification of phytochemicals of antimicrobial activity of Moringa oleifera Lam. Current Biotica. 2009 Jan; 3(1): 33-7.
Arzai A H. Detection of β-lactamase producing microorganisms and their susceptibility to selected antibiotics and medicinal plant extracts. PhD thesis submitted to the Department of Biological Sciences, Bayero University, Kano. 2008.
Mohammed R, Olorukooba MM, Akinyaju MM, Kambai EA. Evaluation of different concentrations and frequency of foliar application of moringa extract on growth & yield of onion, Allium cepa Lam. Agrosearch. 2013 Mar; 13(3): 196-205. doi: 10.4314/agrosh.v13i3.3S.
Madsen M, Schlundt J, El Fadil EO. Effect of water coagulation by seeds of Moringa oleifera on bacterial concentrations. Journal of Tropical Medicine and Hygiene. 1987 Jun; 90(3): 101-9. doi: 10.1016/0378-8741(88)90285-1.
Haristoy X, Fahey JW, Scholtus I, Lozniewski A. Evaluation of the antimicrobial effects of several isothiocyanates on Helicobacter pylori. Planta Medica. 2005 Apr; 71(04): 326-30. doi: 10.1055/s-2005-864098.
Anwar F and Rashid U. Physico-chemical characteristics of Moringa oleifera seeds and seed oil from a wild provenance of Pakistan. Pakistan Journal of Botany. 2007 Oct; 39(5): 1443-53.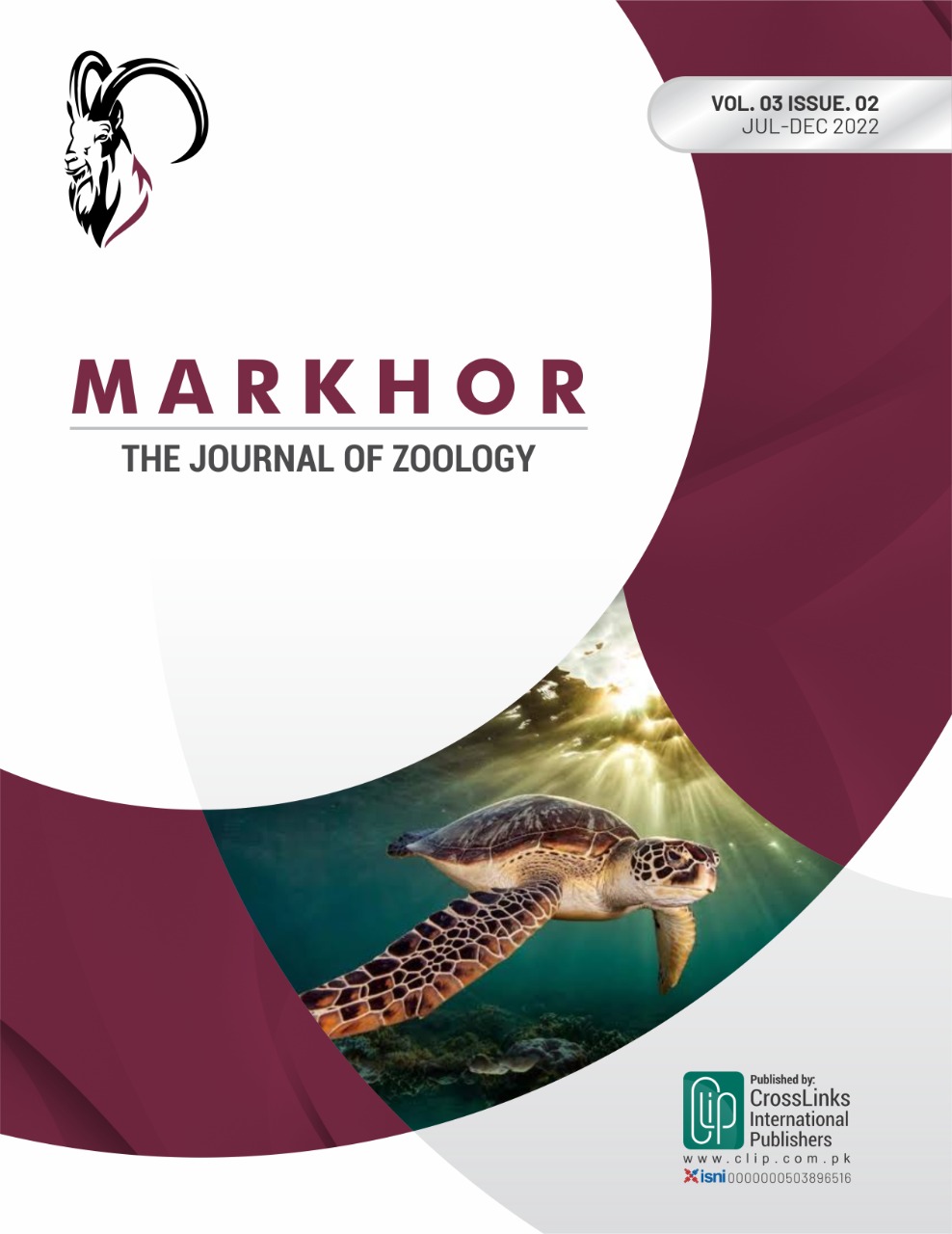 Downloads
CITATION
DOI: 10.54393/mjz.v3i02.53
How to Cite
Rafi, U. ., Majid, M. ., Yasmeen, R. ., & Shazia Bokhari, S. . (2022). Antimicrobial Activity of Moringa oleifera Tea Leaves and Seeds Concentrated in Di Ethanol against E. coli Isolated from Ostrich Feces: Antibacterial effect of Moringa oleifera Tea Leaves and Seeds Extracts. MARKHOR (The Journal of Zoology), 3(02), 25–28. https://doi.org/10.54393/mjz.v3i02.53
License
Copyright (c) 2022 MARKHOR (The Journal of Zoology)
This work is licensed under a Creative Commons Attribution 4.0 International License.
This is an open-access journal and all the published articles / items are distributed under the terms of the Creative Commons Attribution License, which permits unrestricted use, distribution, and reproduction in any medium, provided the original author and source are credited. For comments editor@markhorjournal.com