A Study on Association of Stress Related Problems with Gastrointestinal Disorders in University Students
Association of Stress Related Problems with GIT Disorders
Keywords:
Stress-related Problems, GIT Disorders, Anxiety, GIT Motility
Abstract
Psychological stress may lead to different physiological problems in the gastrointestinal tract (GIT). Objective: To study the association of stress with gastrointestinal (GIT) disorders as stress has been found to play a key role in the pathophysiology of the human body. Methods: A cross-sectional study including 300 female students from different departments of Lahore College for Women University, was done. The females were categorized into two groups. Group A (n= 111) comprises females of age between 15 to 20 years. Group B of age group between 21 to 28 years including 189 females (n= 189). Demographic measurements such as weight, height and BMI were taken of all subjects. Stress, bloating, acidity in the stomach, iron supplements and intake of junk food was reported via questionnaire. All the data were collected and analyzed. Results: The mean age± SD of group A was (18.80± 1.40013) and the mean age ± SD of group B was (22.42 ± 1.447). In group A, 77% of females take stress and in group B, 82% of females take stress out of 111 with (p< 0.001). 16% of females feel bloating in the stomach in group A and 23% of females in group B with (p<0.002). 36% of females feel acidity in group A and 49% in group B with (p<0.002). 70% of females take junk food regularly in group A and 71% in group B with (p<0.001). Conclusions: The percentage of stress and GIT problems was slightly higher in the larger age group.
References
Wolman BB. Stress. Psychosomatic Disorders; 1998.
Mawdsley JE and Rampton DS. Psychological stress in IBD: new insights into pathogenic and therapeutic implications. Gut. 2005 Oct; 54(10): 1481-91. doi: 10.1136/gut.2005.064261.
Agorastos A and Chrousos GP. The neuroendocrinology of stress: the stress-related continuum of chronic disease development. Molecular Psychiatry. 2022 Jan; 27(1):5 02-13. doi: 10.1038/s41380-021-01224-9.
Buysse DJ. Sleep Disorders and Psychiatry. Review of Psychiatry. American Psychiatric Publications; 2005.
Bhatia V and Tandon RK. Stress and the gastrointestinal tract. Journal of Gastroenterology and Hepatology. 2005 Mar; 20(3): 332-9. doi: 10.1111/j.1440-1746.2004.03508.x.
Mai FM. Beaumont's contribution to gastric psychophysiology: a reappraisal. The Canadian Journal of Psychiatry. 1988 Oct; 33(7): 650-3. doi: 10.1177/070674378803300715.
Wolf S. The stomach's link to the brain. Federation proceedings. 1985 Nov; 44: 2889-2893.
Balkin TJ, Rupp T, Picchioni D, Wesensten NJ. Sleep loss and sleepiness: current issues. Chest. 2008 Sep; 134(3): 653-60. doi: 10.1378/chest.08-1064.
Palma BD, Tiba PA, Machado RB, Tufik S, Suchecki D. Immune outcomes of sleep disorders: the hypothalamic-pituitary-adrenal axis as a modulatory factor. Brazilian Journal of Psychiatry. 2007 May; 29: 33-8. doi: 10.1590/S1516-44462007000500007.
Thompson WG and Heaton KW. Functional bowel disorders in apparently healthy people. Gastroenterology. 1980 Aug; 79(2): 283-8. doi: 10.1016/0016-5085(80)90142-0.
Goubert L, Crombez G, Van Damme S. The role of neuroticism, pain catastrophizing and pain-related fear in vigilance to pain: a structural equations approach. Pain. 2004 Feb; 107(3): 234-41. doi: 10.1016/j.pain.2003.11.005.
Ayerbe L, Ayis S, Wolfe CD, Rudd AG. Natural history, predictors and outcomes of depression after stroke: systematic review and meta-analysis. The British Journal of Psychiatry. 2013 Jan; 202(1): 14-21. doi: 10.1192/bjp.bp.111.107664.
Creed F and Guthrie E. Psychological factors in the irritable bowel syndrome. Gut. 1987 Oct; 28(10): 1307-18. doi: 10.1136/gut.28.10.1307.
Blanchard EB, Scharff L, Schwarz SP, Suls JM, Barlow DH. The role of anxiety and depression in the irritable bowel syndrome. Behaviour Research and Therapy. 1990 Jan; 28(5): 401-5. doi: 10.1016/0005-7967(90)90159-G.
Lydiard RB, Greenwald S, Weissman MM, Johnson J, Drossman DA, Ballenger JC. Panic disorder and gastrointestinal symptoms: findings from the NIMH Epidemiologic Catchment Area project. The American Journal of Psychiatry. 1994 Jan; 151(1): 64-70. doi: 10.1176/ajp.151.1.64.
Drossman DA. Gastrointestinal illness and the biopsychosocial model. Psychosomatic Medicine. 1998 May; 60(3): 258-67. doi: 10.1097/00006842-199805000-00007.
Huerta-Franco MR, Vargas-Luna M, Tienda P, Delgadillo-Holtfort I, Balleza-Ordaz M, Flores-Hernandez C. Effects of occupational stress on the gastrointestinal tract. World Journal of Gastrointestinal Pathophysiology. 2013 Nov; 4(4): 108. doi: 10.4291/wjgp.v4.i4.108.
Labus JS, Bolus R, Chang L, Wiklund I, Naesdal J, Mayer EA, et al. The Visceral Sensitivity Index: development and validation of a gastrointestinal symptom‐specific anxiety scale. Alimentary Pharmacology & Therapeutics. 2004 Jul; 20(1): 89-97. doi: 10.1111/j.1365-2036.2004.02007.x.
Saigo T, Tayama J, Hamaguchi T, Nakaya N, Tomiie T, Bernick PJ, et al. Gastrointestinal specific anxiety in irritable bowel syndrome: validation of the Japanese version of the visceral sensitivity index for university students. BioPsychoSocial Medicine. 2014 Dec; 8: 1-9. doi: 10.1186/1751-0759-8-10.
Severance EG, Prandovszky E, Castiglione J, Yolken RH. Gastroenterology issues in schizophrenia: why the gut matters. Current Psychiatry Reports. 2015 May; 17: 1-0. doi: 10.1007/s11920-015-0574-0.
Kelly JR, Kennedy PJ, Cryan JF, Dinan TG, Clarke G, Hyland NP. Breaking down the barriers: the gut microbiome, intestinal permeability and stress-related psychiatric disorders. Frontiers in Cellular Neuroscience. 2015 Oct: 392. doi: 10.3389/fncel.2015.00392.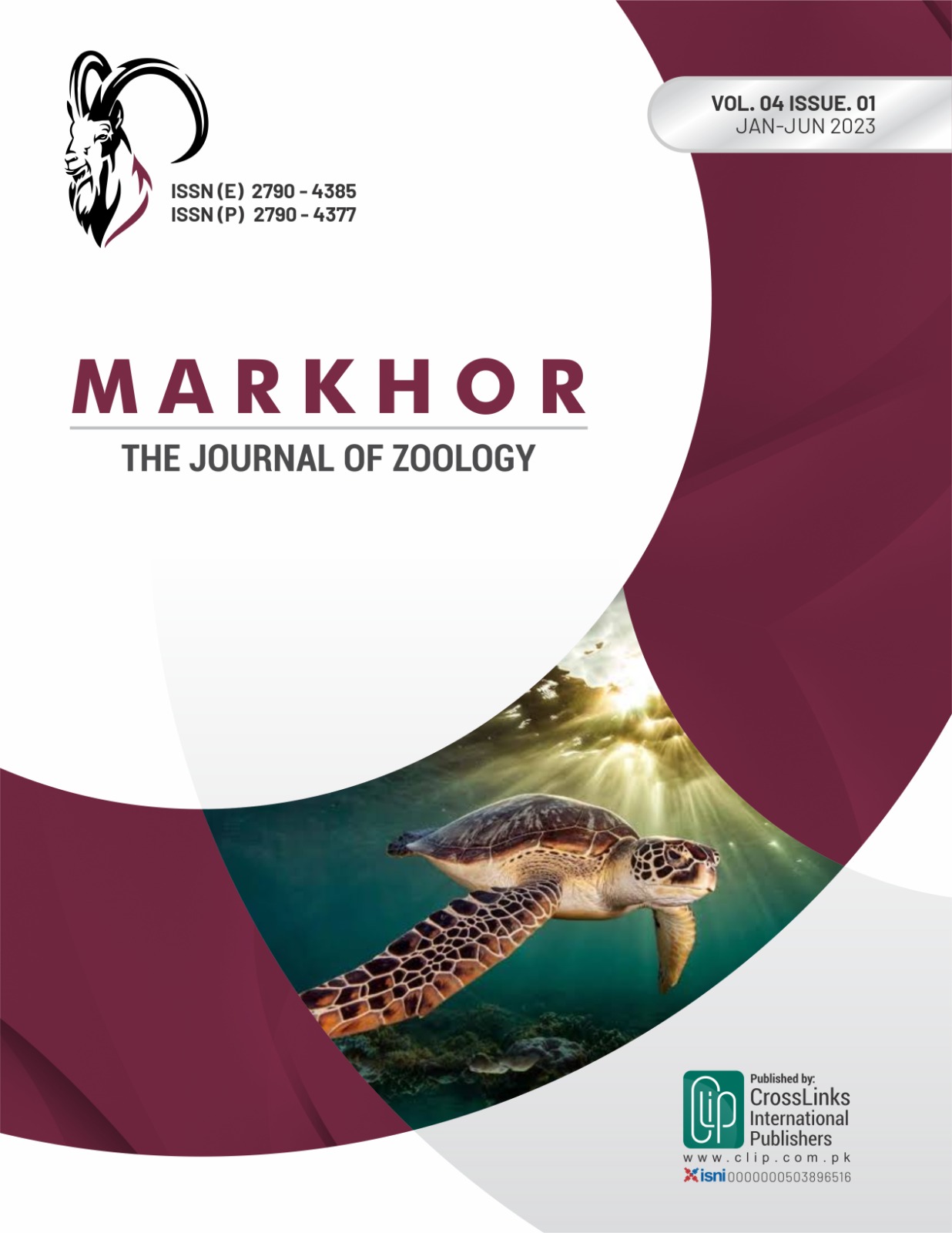 Downloads
CITATION
DOI: 10.54393/mjz.v4i01.66
How to Cite
Ashfaq, F., Hayee, S. ., Wali Muhammad, S. ., & Bint-e-Zainab, . (2023). A Study on Association of Stress Related Problems with Gastrointestinal Disorders in University Students: Association of Stress Related Problems with GIT Disorders. MARKHOR (The Journal of Zoology), 4(01), 21–26. https://doi.org/10.54393/mjz.v4i01.66
License
Copyright (c) 2023 MARKHOR (The Journal of Zoology)
This work is licensed under a Creative Commons Attribution 4.0 International License.
This is an open-access journal and all the published articles / items are distributed under the terms of the Creative Commons Attribution License, which permits unrestricted use, distribution, and reproduction in any medium, provided the original author and source are credited. For comments editor@markhorjournal.com