Knowledge Regarding Dengue Vector Control Among the Community of Tehsil Sahiwal, Sargodha
Abstract
Dengue virus infection is a vector borne illness which causes epidemics and urges for serious policies and steps to devise control stretegies Objectives: The objectives of the study are to assess the knowledge regarding dengue vector control among community of Tehsil Sahiwal, District Sargodha Methods: It was a cross-sectional study conducted in community of Tehsil Sahiwal of District Sargodha. A total of 384 residents were enrolled in this study by simple random sampling technique. A pre-tested questionnaire was used to ask knowledge related questions regarding dengue vector control program. Data was analyzed by SPSS version 20.0. Tables and figures were used to present the data Results: Mean age of the respondents was 37.35 + 11.67 years, out of these 69.8% were males and remaining were females, 69.8% respondents were males, 38.1% were matric and above, 51.1% were working in private firms and 62.2% respondents had family monthly income less than 20,000 rupees. Among respondents, 53.9% had overall good knowledge and 46.1% had poor knowledge. 25.0% acquired information from television and 35.1% from health personnel counseling. Among 177 respondents who had overall poor knowledge, 24(6.3%) had good attitude and 153 (39.8%) had poor attitude. The result was found statistically significant (P=0.000) Conclusions: Knowledge of the residents regarding dengue vector control program was satisfactory (53.9%).
References
Ibrahim NKR, Al-Bar A, Kordey M, Al-Fakeeh A. Knowledge, attitudes, and attitudes relating to Dengue
fever among females in Jeddah high schools. J Infect Public Health. 2009, 2: 30-40.
doi.org/10.1016/j.jiph.2009.01.004
Zahir A, Ullah A, Shah M, Mussawar A. Community participation, dengue fever prevention and control
attitudes in Swat, Pakistan. Int J MCH AIDS. 2016, 5(1): 39-45. doi.org/10.21106/ijma.68.
doi.org/10.21106/ijma.68
Nazeer A, Kamal A, Qaisera S, Waheed K. Dengue fever outbreak in Lahore, Pakistan. A clinical
management experiences. P J M H S. 2009, 3(3): 204-207.
Kyle JL, Harris E. Global spread and persistence of dengue. Ann Rev Microiol. 2008, 62: 71-
doi.org/10.1146/annurev.micro.62.081307.163005. doi.org/10.1146/annurev.micro.62.081307.163005
Hakim ST, Saleem M, Nadeem SG. An experience with dengue in Pakistan: an expanding problem. Ibnosina
J Med BS. 199, 3(1): 3-8. doi.org/10.4103/1947-489X.210848. doi.org/10.4103/1947-489X.210848
Qadir S, Ahmad I. Knowledge, attitude and attitudes about dengue fever among local population. Gomal J
Med Sci. 2015,13(2): 87-90
Humayoun MA, Waseem T, Jawa AA, Hashmi MS, Akram J. Multiple dengue serotypes and high frequency
of dengue hemorrhagic fever at two tertiary care hospitals in Lahore during the 2008 dengue virus outbreak
in Punjab, Pakistan. Int J Infect Dis. 2010, 14S3: e54-e90. doi.org/10.1016/j.ijid.2009.10.008.
Khan H. Wake-up: dengue epidemic is at the door step. Gomal J Med Sci. 2011, 9: 143-144.
Aminullah, Hassan SA, Khail AAK, Waris A, Alam G, et al. Assessment of knowledge, attitude and attitudes
regarding dengue fever among adult population of District Dir Lower, Khyber Pakhtunkhwa, Pakistan. Pak
J Public Health. 2017, 7(2): 71-74. doi.org/10.32413/pjph. v7i2.35.
Qureshi EMA, Tabinda AB, Vehra S. Sero-surveillance of Dengue in the city Lahore, Pakistan. J Pak Med
Assoc. 2017, 67(8): 1173-1179.
Gupta S, Malhotra AK, Verma SK, Deka M, Rai P, et al. A study on knowledge, attitude and attitudes
regarding dengue fever among people living in urban area of Jhansi City (UP). J Evolution Med Dent Sci.
, 3(73): 15388-15398. doi.org/10.14260/jemds/2014/4074.
Van Nguyen H, Then PQT, Nguyen TM, Vu GT, et al. Knowledge, attitude and practice about dengue fever
among patients experiencing the 2017 outbreak in Vietnam. Int J Environ Res Public Health. 2019, 16(6):
doi.org/10.3390/ijerph16060976.
Alyousefi TA, Abdul-Ghani R, Mahdy MA, Al-Eryani SM, Al-Mekhlafi AM, et al. A household-based
survey of knowledge, attitudes and practices towards dengue fever among local urban communities in Taiz
governorate, Yemen. BMC Infect Dis. 2016, 16: 543.doi.org/10.1186/s12879-016-1895-2.
Chandren JR, Wong LP, AbuBakar S. Practices of dengue fever prevention and the associated factors among
the Orang Asli in peninsular Malaysia. PLoS Negl Trop Dis. 2015, 9: e0003954.
doi.org/10.1371/journal.pntd.0003954
Koenraadt CJM, Tuiten W, Sithiprasasna R, Kijchalao U, Jones JW, et al. Dengue knowledge and practices
and their impact on Aedes aegypti populations in Kamphaeng Phet, Thailand. Am J Trop Med Hyg.
,74(4): 692-700. doi.org/10.4269/ajtmh.2006.74.692
Shuaib F, Todd D, Campbell-Stennett D, Ehiri J, Jolly PE. Knowledge, attitudes and attitudes regarding
dengue infection in Westmoreland, Jamaica. West Indian Med J. 2010, 59(2): 139-146.
NurAin M, Azfar M, Omarulharis S, Azfar H, Maryam A, et al. Knowledge, attitude and attitude of dengue
prevention among sub urban community in Sepang, Selangor. Int J Public Health Clin Sci. 2017, 4(2): 73-
Chinnakali P, Gurnani N, Upadhyay RP, Parmar K, Suri TM, et al. High level of awareness but poor practices
regarding dengue fever control: a cross-sectional study from North India. North Am J Med Sci. 2012, 4: 278-
doi.org/10.4103/1947-2714.97210. doi.org/10.4103/1947-2714.97210
Rehman AR, Mahmood MA, Kazmi SF, Munir F, Ghani U. Dengue fever; impact of knowledge on
preventive practice. Ann Pak Inst Med Sci. 2015, 11(4): 195-201.
Siddiqui FR, Usmani AQ, Atif I, Usman SHB, Haider SH. Are we aware of dengue fever? A community
based KAP survey on dengue fever in Rawalpindi. J Islamic Int Med Coll. 2015, 8(3): 69-73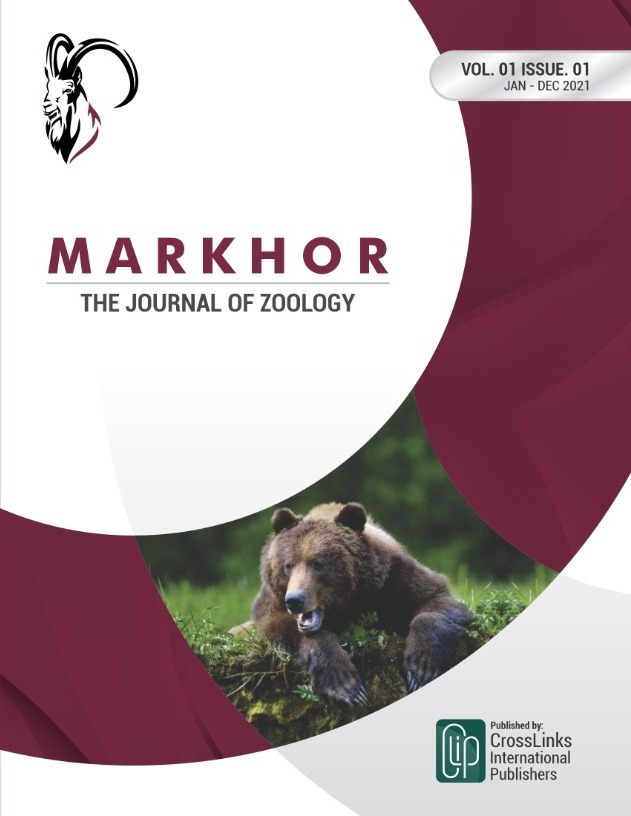 Downloads
CITATION
DOI: 10.54393/mjz.v2i1.30
How to Cite
Aslam, M., Faridi, T. A. ., & Hameed, S. (2021). Knowledge Regarding Dengue Vector Control Among the Community of Tehsil Sahiwal, Sargodha. MARKHOR (The Journal of Zoology), 2(1), 25–29. https://doi.org/10.54393/mjz.v2i1.30
License
Copyright (c) 2021 MARKHOR (The Journal of Zoology)
This work is licensed under a Creative Commons Attribution 4.0 International License.
This is an open-access journal and all the published articles / items are distributed under the terms of the Creative Commons Attribution License, which permits unrestricted use, distribution, and reproduction in any medium, provided the original author and source are credited. For comments editor@markhorjournal.com