Impact Of COVID-19 Lockdown on Mental Health in Students
Impact of COVID-19 lockdown on mental health in Students
Keywords:
Impact, Covid-19, lockdown, mental health, students
Abstract
A widespread panic has been caused all around the world after the deceleration of COVID-19, as a global pandemic. A multitude of psychological complications have been reported so far which have a major effect on human beings' mental health. Objective: The main intention of the study is to evaluate the crucial factors pertaining to the COVID-19 lockdown in COVID-19 and to have a clear comprehension of the impact related to these factors on psychological heath and overall student well-being. Methods: It was a cross-sectional study which was performed from the University of the Lahore, Pakistan. A non-probability convenient sampling methodology was utilized to select over 100 students. The participants under study were assessed via a specified questionnaire. The entire study was completed in over four months, from January to April. For the purpose of Data Analysis, SPSS 21.0 software framework was utilized. From the survey, we got to know that out of 100 students 7 of them for nearly every day felt down depressed, 44 among them felt stressed while 67 of them found having anxiety and couldn't cope with the things that they had to do. In exclusion criteria: Individual are not suffering from covid-19. Individuals below 18 years of age. On cooperative individuals. Results: In this survey we got to know that out of 100 students 7 of them for nearly every day felt down depressed, 44 among them felt stressed while 67 of them found having anxiety and couldn't cope with the things that they had to do. Conclusion: Various co- and extra-curricular activities and software applications are beneficial for to improve mental health care to some extent, most prominently in circumstances, including scenarios developed by the COVID outbreak, the subjective students involved in this study demonstrated mild to moderate affinity towards anxiety, depression, and stress.
References
Velavan TP, Meyer CG. The COVID‐19 epidemic. Tropical medicine & international health. 2020 Mar; 25(3):278-280. doi: 10.1111/tmi.13383.
Fauci AS, Lane HC, Redfield RR. Covid-19—navigating the uncharted. New England Journal of Medicine. 2020 Mar 26;382(13):1268-9.
Yang L, Liu S, Liu J, Zhang Z, Wan X, Huang B, et al. COVID-19: immunopathogenesis and Immunotherapeutics. Signal transduction and targeted therapy. 2020 Jul; 5(1):128. doi: 10.1038/s41392-020-00243-2.
Wang HY, Li XL, Yan ZR, Sun XP, Han J, Zhang BW. Potential neurological symptoms of COVID-19. Therapeutic advances in neurological disorders. 2020 Mar; 13:1756286420917830. doi: 10.1177/1756286420917830.
Hornuss D, Lange B, Schroeter N, Rieg S, Kern WV, Wagner D. Anosmia in COVID-19 patients. Clinical Microbiology and Infection. 2020 Oct; 26(10):1426 -1427. doi: 10.1016/j.cmi.2020.05.017.
Day M. Covid-19: ibuprofen should not be used for managing symptoms, say doctors and scientists.
Kumar A, Nayar KR. COVID 19 and its mental health consequences. Journal of Mental Health. 2021 Jan; 30(1):1-2.
Xiong J, Lipsitz O, Nasri F, Lui LM, Gill H, Phan L, et al. Impact of COVID-19 pandemic on mental health in the general population: A systematic review. Journal of affective disorders. 2020 Dec; 277:55-64. doi: 10.1016/j.jad.2020.08.001.
Cullen W, Gulati G, Kelly BD. Mental health in the COVID-19 pandemic. QJM: An International Journal of Medicine. 2020 May; 113(5):311-312. doi: 10.1093/qjmed/hcaa110.
Chatterjee SS, MalatheshBarikar C, Mukherjee A. Impact of COVID-19 pandemic on pre-existing mental health problems. Asian journal of psychiatry. 2020 Jun; 51:102071. doi: 10.1016/j.ajp.2020.102071.
Khan KS, Mamun MA, Griffiths MD, Ullah I. The mental health impact of the COVID-19 pandemic across different cohorts. International journal of mental health and addiction. 2022; 20(1):380-386. doi: 10.1007/s11469-020-00367-0.
Talevi D, Socci V, Carai M, Carnaghi G, Faleri S, Trebbi E, et al. Mental health outcomes of the CoViD-19 pandemic. Rivista di psichiatria. 2020 May; 55(3):137-44.
Pragholapati A. COVID-19 impact on students.
Doraiswamy S, Cheema S, Al Mulla A, Mamtani R. COVID-19 lockdown and lifestyles–A narrative review. Preprints. 2020 Nov; doi.org/10.20944/preprints202011. 0532.v1
Lohi AS, Sawarkar G. Management of diet during Covid-19 pandemic. International journal of pharmaceutical sciences 2020: 154-7.doi.org/10.26452/ijrps.v11iSPL1.2295
Izzo L, Santonastaso A, Cotticelli G, Federico A, Pacifico S, Castaldo L, et al. An Italian survey on dietary habits and changes during the COVID-19 lockdown. Nutrients. 2021 Apr; 13(4):1197. doi: 10.3390/nu13041197.
Husain W, Ashkanani F. Does COVID-19 change dietary habits and lifestyle behaviours in Kuwait: a community-based cross-sectional study. Environmental health and preventive medicine. 2020 Dec; 25(1):61. doi: 10.1186/s12199-020-00901-5.
Kecojevic A, Basch CH, Sullivan M, Davi NK. The impact of the COVID-19 epidemic on mental health of undergraduate students in New Jersey, cross-sectional study. PLoS ONE. 2020 Sep; 15(9): e0239696. doi: 10.1371/journal.pone.0239696.
Abu Sayeed, SatyajitKundu, Md. Hasan Al Banna, M. TasdikHasan, MusammetRasheda Begum, MdShafiqul Islam Khan. Mental health outcomes during the COVID-19 and perceptions towards the pandemic: Findings from a cross sectional study among Bangladeshi students, Children and Youth Services Review.
Impact of Covid-19 Pandemic On Mental Health of Medical Students: A Cross-Sectional Study Using GAD-7 And PHQ-9 Questionnaires. Carlos IzaiasSartoraoFilho, Wilson Conte de Las Villas Rodrigues, Ricardo Beauchamp de Castro, ArleteAparecidaMarçal, ShirlenePavelqueires, Luiz Takano, Wilson Luis de Oliveira, Carlos IzaiasSartoraoNeto.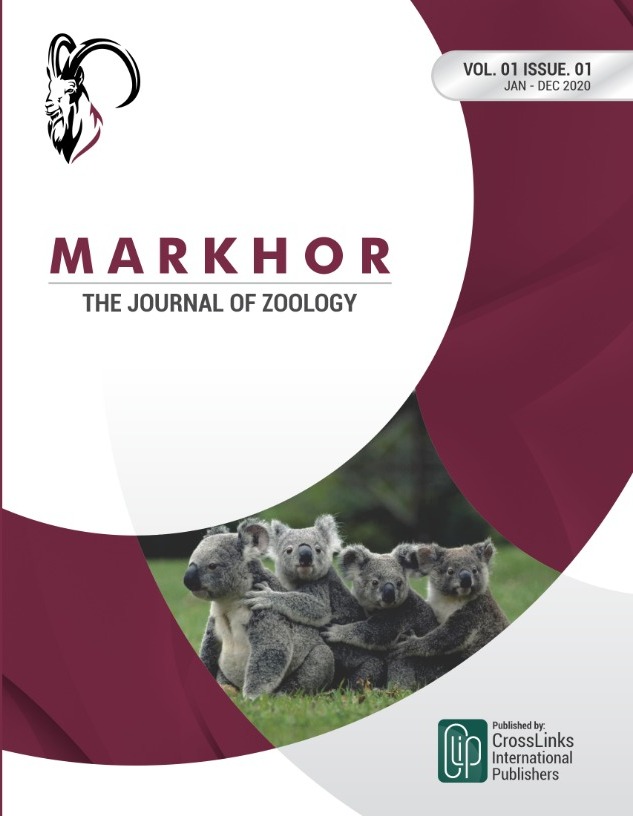 Downloads
How to Cite
Sajjad Hussain, R. ., Ahmed Khan, A. ., Mustafa, U. ., Rehman, F. ., Fatima, R. ., Hamza Riaz, M. ., Fatima, A. ., & Arshad, M. . (2020). Impact Of COVID-19 Lockdown on Mental Health in Students: Impact of COVID-19 lockdown on mental health in Students. MARKHOR (The Journal of Zoology), 1(2), 26–31. https://doi.org/10.54393/mjz.v1i2.24
License
Copyright (c) 2020 MARKHOR (The Journal of Zoology)
This work is licensed under a Creative Commons Attribution 4.0 International License.
This is an open-access journal and all the published articles / items are distributed under the terms of the Creative Commons Attribution License, which permits unrestricted use, distribution, and reproduction in any medium, provided the original author and source are credited. For comments editor@markhorjournal.com