Lack Of Breastfeeding Among Working Mothers
Lack of breastfeeding among working mothers
Keywords:
Non-breast feeding, Mothers, Breast cancer, Ovarian cancer, Obesity
Abstract
The nursing stage is the most crucial time in a person's life for growth and development, and nourishment is crucial during this time for a newborn. Breastfeeding has also been linked to reduce the incidence of breast cancer, ovarian cancer and obesity in females. Objective: To find out whether women are aware that non-feeding females are more likely to develop obesity, ovarian cancer, and breast cancer. Methods: Data were gathered from female patients at Sheikh Zaid Hospital in Rahim Yar Khan. Non-probability convenient sampling with a sample size of 100 was used in this comparative investigation. Results: The findings revealed that 19 women knew not nursing might result in ovarian cancer, breast cancer, and obesity, whereas 81 women did not had any idea. Also, the findings showed that, in contrast to 94 women, only 6 women were exclusively nursing their kid for 6 months. The research indicate that while 22 women did not believe that lack of time is a barrier to breastfeeding, 78 women did. Lastly, the data also reveals that 83 women believed that working may make it difficult to breastfeed, whereas 17 women did not. Conclusion: The longer a woman breastfeeds, the greater her protection against breast cancer, ovarian cancer, and obesity. The lack or limited lifetime duration of breastfeeding that is typical of women in these countries is primarily to blame for the high frequency of breast cancer, ovarian cancer, and obesity in industrialized nations.
References
Infant and Young Child Feeding: Model Chapter for Textbooks for Medical Students and Allied Health Professionals. Geneva: World Health Organization; 2009.
Ku CM and Chow SK. Factors influencing the practice of exclusive breastfeeding among Hong Kong Chinese women: a questionnaire survey. Journal of Clinical Nursing. 2010 Sep; 19(17-18):2434-45. doi: 10.1111/j.1365-2702.2010.03302.x
Hanif HM. Trends in breastfeeding and complementary feeding practices in Pakistan, 1990-2007. International Breastfeeding Journal. 2011 Oct; 6:15. doi: 10.1186/1746-4358-6-15
Nkala TE and Msuya SE. Prevalence and predictors of exclusive breastfeeding among women in Kigoma region, Western Tanzania: a community based cross-sectional study. International Breastfeed Journal. 2011 Nov; 6(1):17. doi: 10.1186/1746-4358-6-17
Kramer MS and Kakuma R. Optimal duration of exclusive breastfeeding. Cochrane Database Systematic Reviews. 2012 Aug; 2012(8):CD003517. doi: 10.1002/14651858.CD003517.pub2
Davies MJ, Moore VM, Willson KJ, Van Essen P, Priest K, Scott H, et al. Reproductive technologies and the risk of birth defects. New England Journal Medicine. 2012 May; 366(19):1803-13. doi: 10.1056/NEJMoa1008095
Ip S, Chung M, Raman G, Chew P, Magula N, DeVine D, et al. Breastfeeding and maternal and infant health outcomes in developed countries. Evidence Report Technology Assessment. 2007 Apr; (153):1-186. doi: 10.1542/gr.18-2-15
Godfrey JR and Lawrence RA. Toward optimal health: the maternal benefits of breastfeeding. Journal of Womens Health. 2010 Sep; 19(9):1597-602. doi: 10.1089/jwh.2010.2290
Stuebe A. The risks of not breastfeeding for mothers and infants. Reviews in Obstetrics and Gynecology. 2009; 2(4):222-31.
Collaborative Group on Hormonal Factors in Breast Cancer. Breast cancer and breastfeeding: collaborative reanalysis of individual data from 47 epidemiological studies in 30 countries, including 50 302 women with breast cancer and 96 973 women without the disease. The lancet. 2002 Jul; 360(9328):187-95.
De Silva M, Senarath U, Gunatilake M, Lokuhetty D. Prolonged breastfeeding reduces risk of breast cancer in Sri Lankan women: A case–control study. Cancer epidemiology. 2010 Jun; 34(3):267-73. doi: 10.1016/j.canep.2010.02.012
Su D, Pasalich M, Lee AH, Binns CW. Ovarian cancer risk is reduced by prolonged lactation: a case-control study in southern China. The American journal of clinical nutrition. 2013 Feb; 97(2):354-9. doi: 10.3945/ajcn.112.044719
Baker JL, Gamborg M, Heitmann BL, Lissner L, Sørensen TI, Rasmussen KM. Breastfeeding reduces postpartum weight retention. The American journal of clinical nutrition. 2008 Dec; 88(6):1543-51. doi: 10.3945/ajcn.2008.26379
Rakhshani F and Mohammadi M. Continuation of breastfeeding: is this a problem in Southeast Iran? Breastfeeding Medicine. 2009 Jun; 4(2):97-100. doi: 10.1089/bfm.2007.0038.
Al-Binali AM. Breastfeeding knowledge, attitude and practice among school teachers in Abha female educational district, southwestern Saudi Arabia. International Breastfeeding Journal. 2012 Aug; 7(1):10. doi: 10.1186/1746-4358-7-10
Oche MO, Umar AS, Ahmed H. Knowledge and practice of exclusive breastfeeding in Kware, Nigeria. African Health Sciences. 2011 Sep; 11(3):518-23.
Saeed OB, Haile ZT, Chertok IA. Association Between Exclusive Breastfeeding and Infant Health Outcomes in Pakistan. Journal of Pediatric Nursing. 2020 Feb; 50: e62-e68. doi: 10.1016/j.pedn.2019.12.004
Chattha MN, Mazhar I, Ahmad SA, Latif A, Rai ME. Breast feeding knowledge and practices in Sialkot. Pakistan Journal of Medical and Health Sciences. 2016 Oct; 10:1272-5.
Ghazanfar H, Saleem S, Naseem S, Ghazanfar A. Practice of breastfeeding and Immunisation in a periurban community in Pakistan. The Journal of the Pakistan Medical Association. 2017 May;67(5):682-7.
Safdar M, Jabeen C, Kousar R, Shahzadi C, Gilani SA. The Assessment of Knowledge, Attitude and Practices of Exclusive Breast Feeding Among Lactating Mothers: A Case of Children Hospital of Lahore, Pakistan. Saudi Journal of Medicine. 2017; 2(3):76-84.
Evenson KR, Aytur SA, Borodulin K. Physical activity beliefs, barriers, and enablers among postpartum women. Journal of Womens Health. 2009 Dec; 18(12):1925-34. doi: 10.1089/jwh.2008.1309
Netshandama VO. Breastfeeding practices of working women. Curationis. 2002 Feb; 25(1):21-7. doi: 10.4102/curationis.v25i1.698.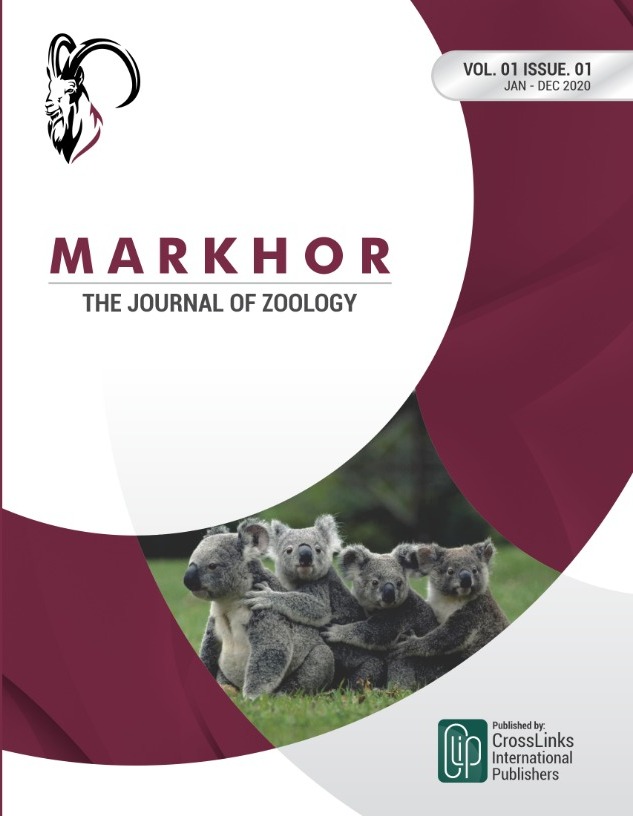 Downloads
CITATION
DOI: 10.54393/mjz.v1i2.14
How to Cite
Murtaza Malhi, Z. ., Khalid, S. ., Sharmeen, Z. ., Bashir, S. ., Huda, N. ul ., & Arshad, M. . (2020). Lack Of Breastfeeding Among Working Mothers: Lack of breastfeeding among working mothers. MARKHOR (The Journal of Zoology), 1(2), 20–25. https://doi.org/10.54393/mjz.v1i2.14
License
Copyright (c) 2022 MARKHOR (The Journal of Zoology)
This work is licensed under a Creative Commons Attribution 4.0 International License.
This is an open-access journal and all the published articles / items are distributed under the terms of the Creative Commons Attribution License, which permits unrestricted use, distribution, and reproduction in any medium, provided the original author and source are credited. For comments editor@markhorjournal.com